Practical Applications
Solid wood bridge / Bookend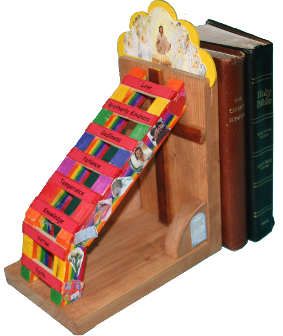 We now offer a beautiful solid wood bridge / bookend for you and your children to build together while you study how Christ made a way for us to reach back up to heaven over the gap sin made. Learn the steps of Peter's ladder and with the upcoming DVD series (
God's Call to Higher Ground
) see how He can fulfill them in our hearts. When completed with your choice of colors the bridge is a bookend standing as a useful reminder of the lessons learned. Order today for a fun way to learn with your children!
$35.00 each
Magnetic memory verse / Mission cards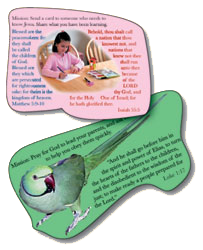 Laminated, magnetic memory verse/mission cards
To All the World strives to utilize all of the senses in the presentation of the principles laid out in the Bible. Some learn by hearing, others by seeing, and still others by doing; but all will find a ready avenue in this program. Everyone can see, hear, and experience how to put valuable principles into practice in their everyday lives.
As families as well as individuals it is helpful to have a way of setting before us tangible goals and values to attain. With hands on in view reminders have been developed to present the mission and mission memory verse. These mission reminders, in the form of beautiful full color laminated magnetic devices, are available to be placed in a visibly prominent location such as your refrigerator for both the children and the parents. These reminders are also available in sheets of four for you to cut out and finished.
$0.75 each - cut and laminated with magnet
$1.50 - uncut page of 4